Prior to becoming an attorney, Mr. Wood spent 8 1/2 years in the United States Navy. While in the Navy, Mr. Wood served his country as a Naval Aviator. While attached to VS-38, Mr. Wood served as an Aviation Weapons Systems Operator. Mr. Wood has over 100 aircraft carrier landings, as well as numerous Quick Kill Awards and Flag Letters of Commendation. Prior to discharging from the U.S. Navy, Mr. Wood served as a flight instructor at VS-41 in San Diego, California. During his tour at VS-41, Mr. Wood won the coveted Wolf Hunt Award by distinguishing himself as the number one Weapons System Operator in the world during joint task force international war games.
After receiving an Honorable Discharge from the Navy, Mr. Wood immediately began Law School at to studying the usual Law School disciplines, such as Criminal Law, Family Law, Evidence, Contracts and Civil Law, Mr. Wood went above and beyond by obtaining an Emphasis Certificate in Trial Advocacy and Dispute Resolution. Mr. Wood also won awards in Trial Advocacy as a member of the Mock Trial team, after advancing to Nationals in his first year in Law School. Mr. Wood served on the Student Bar Association and was elected President of the Criminal Law Society. Mr. Wood went on to graduate in the top of his class.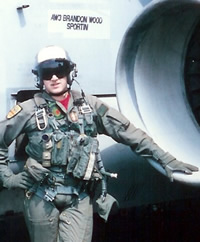 After Law School graduation, Mr. Wood worked for the largest criminal defense law firm in southern California. Eventually, the time came to strike out on his own, and Mr. Wood opened his own law firm here in Victorville, California. Since opening his own firm, Mr. Wood has specialized in Criminal Law and Family Law. Mr. Wood has handled thousands of cases in the Criminal and Family law courts. Over the past few years, Mr. Wood has narrowed his practice to the High Desert courts only. This allows Mr. Wood to have a close personal relationship with everyone involved in the local Justice System; a relationship that benefits you, his client.
In addition to assisting his clients, Mr. Wood also helps the community. Every year Mr. Wood volunteers countless hours to the local High School Mock Trial Teams. Mr. Wood also serves as a Judge ProTem in the Victorville Court.